Profile

The years go on and we're still fighting it
Free Account
Created on 2012-02-19 06:42:03 (#1513399), last updated 2012-02-19 (292 weeks ago)
20,975 comments received, 693 comments posted
1,951 Journal Entries, 129 Tags, 0 Memories, 141 Icons

About
| | |
| --- | --- |
| Name: | catch22girl |
| Birthdate: | Sep 10 |
| | |
| | |

Mini Bio
This Journal is Friends Only.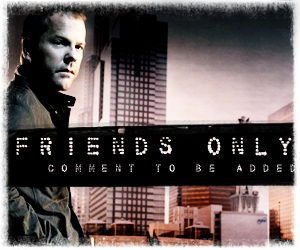 Icon resources page: Icon Resources


The Vampire Diaries Elena mood theme is by
kohler


Jack Bauer Day 5 Friends Only Banner by
singingrl.


Jack and Kim banner by
dealan311

LiveJournal
Trading Cards
Paid Account Edition
catch22girl


User Number:

503411

Date Created:

03/22/02

Number of Posts:

1,938

Catch22Girl lives near New York City. She works in market research and spends a lot of time in a cubicle. Her interests include writing, reading, the book industry, television production, film history, and other media related things. She is extremely liberal and devoted to stopping the spread of extremism in America.

Strengths:

Able to cover many topics in any conversation, intelligent and warm-hearted, can cheer up most people, strong willed but not stubborn, very detail oriented, good at analysis, can cut to the heart of most situations, fic writing, loyalty.

Weaknesses:

Not good at hand-to-hand combat, can be easily hurt but tries to hide it, major problems with procrastination, anything 24 related, hot men with brains, leather jackets, carbs, can be quick tempered but easily forgives, is very cranky when she doesn't sleep, tends to suffer from lack of faith in own abilities, doesn't trust many people, low confidence, insomnia.

Special Skills:

analyzing data, reading quickly, analyzing film and tv, making people feel better, creating bizarre inside jokes, writing things that make people cry, cheering people on.

Weapons:

Contagious smile, insanity, pom-poms, inner-Jewish Mother, persistence.

People who tick me off:

writers who don't do enough research, hypocrites, attention whores, posers, the right-wing media, people who use "u" for "you", people who hurt my friends, people who make up their own facts in a debate, global warming skeptics, the religious right, republican lawmakers who put party and power above country (so pretty much all of them).

Make your own LiveJournal Trading Card!
Brought to you by
crossfire_

People
[View Entries]

Communities
[View entries]

Feeds
[View Entries]

Subscriptions (0)

Linking
To link to this user, copy this code:
On Dreamwidth:
Elsewhere: